<iframe width="560″ height="315″ src="//www.youtube.com/embed/ErRQT3kGtzA?rel=0″ frameborder="0″ allowfullscreen></iframe>
<iframe width="560″ height="315″ src="//www.youtube.com/embed/KI-doi5j3Ko?rel=0″ frameborder="0″ allowfullscreen></iframe>
outside Ardee Co.Louth recentley, mowing for agri contractor John Taffee, a 8310 V-Tronic Fastrac fitted with GPS auto-steer coupled with a Krone butterfly mower.
The 8310 is a demonstrator model from ECI and the Krone mowers are supplied by Farmhand.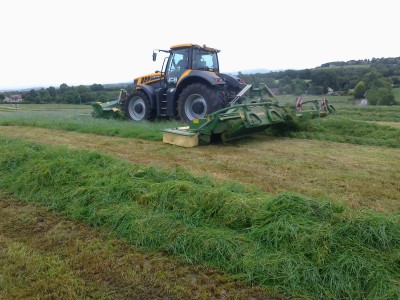 Capable of 65km/hr on the road,this Fastrac, with the auto steer allows you to split the field while mowing and always run parallel to the last pass. Just take your hands off the steering wheel and let the GPS system auto-steer for you. And all with a full suspension front and rear.
Here we can see from a distance how accurate this GPS autosteer is- this tractor is being driven by a man that has not got his hands on the steering wheel!! But when an obstacle such as this electricity pole is encountered the driver has to take control again, so i don't think anyone will be asleep in bed while the tractor drives itself just yet.
Pure Genius.
2,643 total views, 4 views today