Spotted outside Ardee Co.Louth recently, mowing for agri contractor John Taffee, a 8310 V-Tronic Fastrac fitted with GPS auto-steer coupled with a Krone butterfly mower.
The 8310 is a demonstrator model from ECI-JCB and the Krone mowers are supplied by Farmhand.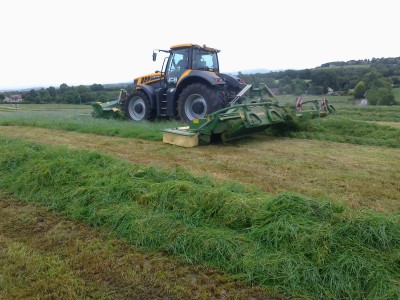 The 8000 series features the AGCO ML260 Vario Transmission as used in the Fendt 900 series, and is the most sophisticated, yet clever and reliable transmissions on the market today.
The video below will give you some insight into its operation- it really is re-inventing the wheel!


Capable of 65km/hr on the road,this Fastrac, with the auto steer allows you to split the field while mowing and always run parallel to the last pass. Just take your hands off the steering wheel and let the GPS system auto-steer for you. And all with a full suspension front and rear.
Here we can see from a distance how accurate this GPS autosteer is- this tractor is being driven by a man that has not got his hands on the steering wheel!! But when an obstacle such as this electricity pole is encountered the driver has to take control again, then simply revert back to auto-steer again and sit back  and relax.
Pure Genius.
For a look into the development by Fendt (owned by AGCO since 1997) of this groundbreaking transmission ,used in Fendt,some Valtra & Massey Ferguson models,The Challenger Terragator, and the JCB Fastrac 8000 series,watch this video.

 
Top Gear

– 

JCB Fastrac 8250

Vs

Fendt 930

Vs

 

Case Quadtrac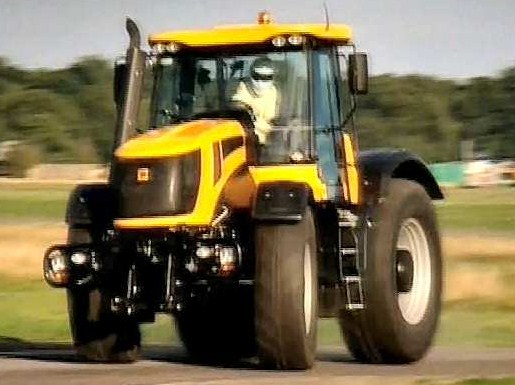 In 2007, the Case Steiger Quadtrac STX500  tractor was featured on the BBC television series Top Gear,where presenter Richard "The Hamster"Hammond chose the STX 500 for some of the challenges. It was lapped around the Top Gear test track by resident test pilot,The Stig, finishing in a time of 4:49.1, which is the slowest lap ever round the track
A Fendt 930 Vario also featured, chosen by bubbling co-host James May.It was driven by The Stig round the test track, and did a time of 3:28.4, the second slowest time round the track.
The JCB Fastrac 8250 was chosen by motor-mouth presenter Jeremy Clarkson. It was driven on the show by The Stig, in a time of 2:57.4, making it the fastest of the three featured tractors, but also currently the fifth slowest ever lap time.
That just leaves the question of what 2 cars is the 8250 Fastrac faster than?
The Stigs Irish Cousin attempts a ramp @ Kingscourt Festival 2010
9,234 total views, 6 views today