The JCB Fastrac
The JCB Fastrac is a high speed agricultural tractor(up to 80km/hr depending on spec),and also the only tractor on the market today with full suspension.
It is manufactured by JCB Landpower, part of the J.C. Bamford group of companies,a family owned company, and the last of the true British manufacturers left. Production began in 1991, with continual development to the present day. All models have six cylinder diesel engines.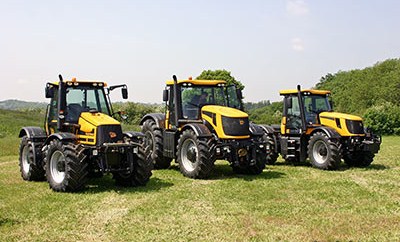 Initially supplied with Perkins 6 cylinder engines, the supplier of the larger higher horsepower engines above 155hp was Cummins, and then later with Sisu power units, from the AGCO stable.
All models under 60km/hr use a hydrostatic steering, larger, faster models use a powered steering box similar to a large truck. All models use air-over-hydraulic,dry outboard discs all round, with a spring applied,air release handbrake (similar to a HGV) and twin line braking system as standard.
This is in sharp contrast to their inferior 50km/hr green/blue/red competitors that still insist on incorporating the brakes in the transmission/hydraulic oil.This inevitably leads to expensive repair bills when the brake lining wear out with out any warning.There is simply no way to measure the brake wear. John Deere are on record (Profi Magazine) stating that their brakes should be checked/replaced every 2000 hrs. How many dealers highlight this to potential buyers?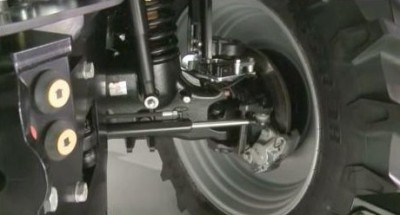 Unlike other manufacturers that still only fit, as an added cost option, cab and front axle suspension, all JCB Fastrac models use coil spring suspensions on the front axles and hydraulic/gas suspensions with self leveling on the rear axles, with the exception of the 7000 series which uses the hydraulic/gas setup all round.
Lets talk about some of the milestones Fastrac lifetime so far.
JCB HMV (Fastrac Prototype),
driven by

Michael Moroney

for the

Irish Farmers Journal

,1991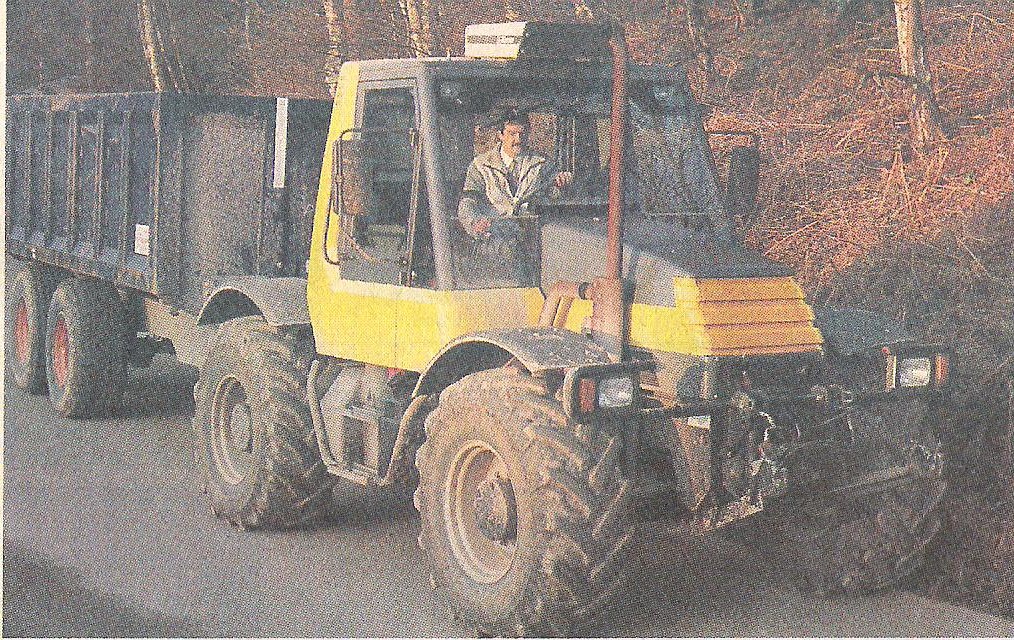 1991 – Production of 100 Series Fastrac begins ,changing the future of road travel for farmers and other operators everywhere.throwing down the gauntlet to others as the new kid in town.
1994 – Production of smaller 55kph 1100 Series Fastrac begin
1996 – Quadtronic 4WS introduced
1998 – 1100 & 100 Series Fastracs are replaced by 2000 & 3000 Series Fastracs
2000 – Smoothshift oil-immersed wet clutch introduced across all ranges
2001 – ABS braking system available across all ranges
2005 – 8250 launched with 8.3-litre Cummins engine and V-Tronic transmission
2006 – 3200 and 3230 launched with 6.7-litre Cummins engine
2007 – 2155 and 2170 launched
2008 -7000 Series enters production, some 17 years after the company first introduced the Fastrac concept.
Powering the 7170, 7200 and 7230 models are 6.7 litre, turbocharged Cummins engines, rated at 173hp, 190hp and
70kph transmission is a totally new design, and is comprised of a clutchless six-speed, four-range powershift,(P-Tronic) for a total of 24 forward ratios and 12 reverse.
2010- 3000 Series upgrade. 3000 Xtra models now featuring P-Tronic Powershift transmission
2011 – 8280 & 8310 flagship models launched
The 306hp 8310 is their new flagship model and slotting in under this is the 279hp 8280 which replaces the outgoing 8250.
The big surprise here was their change of engine supplier from Cummins to SISU,part of the AGCO corporation.
Many different gearboxes have been fitted to the Fastrac since production began in 1991 The first type has evolved over several years.
JCB HMV (High MobilityVehicle) Prototype, Top Gear 1991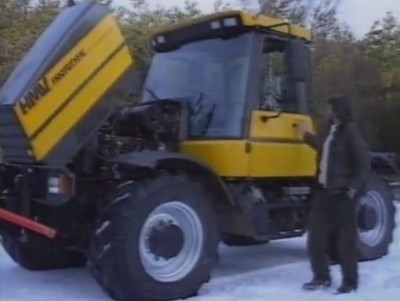 On early 100 series models, e.g. 125,145, with the introduction of the Fastrac this style of gearbox had 18 forward gears and 6 reverse. This were organised as 6 manual gears in each of 3 ranges (Low, Medium and High). The range box also selected reverse giving 6 reverse gears with speeds similar to medium in forwards. All gear changes were made with the use of a dry clutch.While definitely ground breaking in tractor design, they had some way to go with reliability.
Years of production 1991-1992
Fastrac Prototype – TopGear 1991
On the following 100 Series,and subsequently, on the new 1100 series, this gearbox then had a 2 speed powershift section added after the dry clutch and before the 6 speed gearbox. This resulted in 36 forward gears  and 12 reverse . Models include 1115,1135,135-65,155-65 and 185-65, sometimes described as "Selectronic".
These models were made from 1993 to 1997.
 

Fastrac 155-80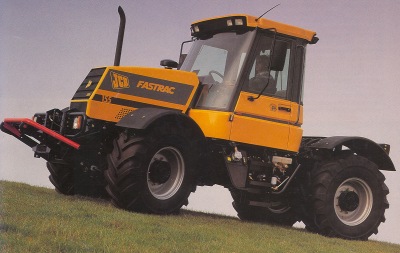 Following this the 2 speed powershift section was changed to 3 speed version. Giving 54 forward gears (using 3 powershifts now instead of the previous 2) and 18 reverse gears. These models were now called the 2000 &  3000 series, models including 2135, 2150, 3155 and 3185. These models were produced from 1998-2000 and still fitted with a dry clutch, carrying the "Autoshift" description.
The 2000 & 3000 series really set the pace for high speed travel with an agricultural machine but it would take the following few years to shake off the reputation from earlier models.
Fastrac 3155 Autoshift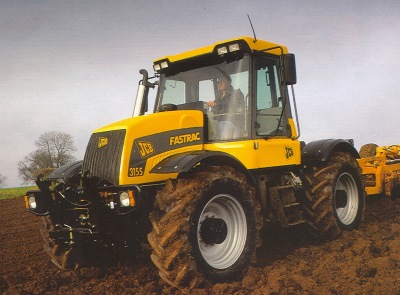 With the latest version of this gearbox a wet clutch replaced the dry clutch still with 54 forward and 18 reverse gears. Later models, 2135, 3185, etc with this gearbox carry the "Smoothshift" description. This gearbox carried over to the 2155, 2170, 3170, 3190, 3200, 3220, 3230 models from 2002 onwards. The Smoothshift gearbox has also proven to be very reliable, with many models happily clocking up 10000+ hrs trouble free.
Following on from this,in order to compete with the competition from other manufacturers, the ground breaking V-Tronic transmission was introduced in a  totally new chassis,powered by the 8.3 litre Cummins QSL engine  in the 8000 series.Originally fitted only in the 8250 Fastrac, and later the 8280 and 8310 models, this new range  features a CVT (continuously variable) hybrid hydrostatic transmission. and simply  is one of the most advanced gearboxes available any where in the world in any type of machine in production today.
 

Fastrac 8250 V-Tronic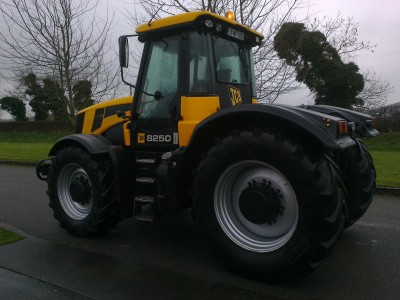 This transmission uses technology from the Agco/Fendt company,the ML260 transmission, as used in the current 900 series Fendt tractors. The Fendt 900 series have power outputs approaching 400 hp. This will reassure any Fastrac owners about the transmissions capabilities.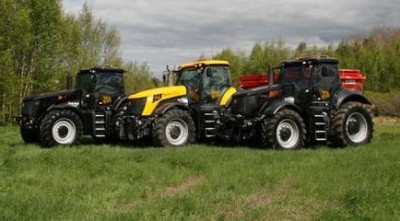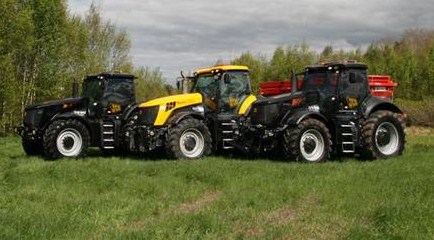 Already a user of the Fendt or AGCO Vario transmission in their Fastracs, the firm has stepped further into the AGCO store by securing a supply of the Finnish made SISU (Valtra) engines for use in their 8280 & 8310 Fastracs since 2011.
How long before we see a badge engineered Fendt or Massey Fastrac in Green or Red????
List prices in the UK are £149,380 + VAT for the 8280 and £153,205 + VAT for the 8310 (June 2011)
AGCO ML260 Transmission
The third type developed most recently and fitted to 7000 series and 3000 Xtra machines has a wet master clutch, a six speed powershift section and a four speed range box. As reverse is at the front of the powershift section the reverse gears are spread throughout the speed range.This arrangement gives 24 forward gears and 12 reverse gears.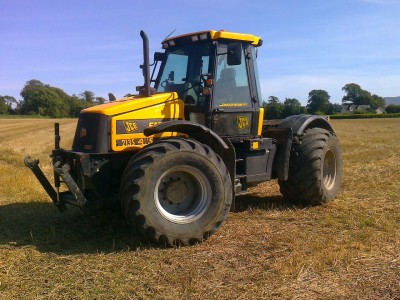 The 1100 and 2000 series, (4 wheel steer, Quadtronic 4WS, a useful optional extra), are capable of 55km/hr, while the 100 series and all 3000 series were available as either 65km/hr or 80km/hr versions.
The 80km/hr was more popular in the UK and Europe and are easily identified by the fitment of 24 inch wheels while the 65km/hr models are fitted with 30 inch wheels.
Later 7000 and 8000 series were the first models not to use the same tyre sizes on both axles and are capable of 70km/hr.
14,301 total views, 10 views today