The Benefits of Reconditioning your JCB Fastrac Transmission with Russell Fastraxx
The JCB Fastrac is quite unique as an agricultural tractor in its design. Rather than using the transmission casing as a part of the over all chassis of the machine, the Fastracs have morphed technology from the commercial HGV world with all the obvious requirements of an agricultural workhorse built within a rugged chassis.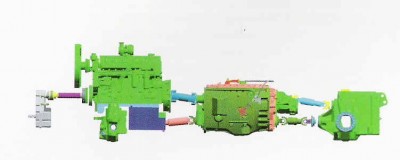 This demands that they are fitted with front and rear PTO, 4 wheel drive systems,front & rear linkage with electronic draught control, full external auxiliary hydraulics and a flexible transmission with speeds as low as 1km/hr at rated speed up to a maximum speed,depending on specification, of 55,65,70 or 80 km/hr for transport duties. Fitted with up to 5 independent hydraulic pumps and associated pipework and control valves,topped off with a variety of air services makes for quite a crowded chassis.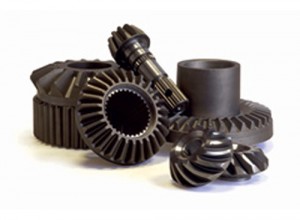 For this reason a very large part of the expense in rebuilding or repairing your JCB Fastrac transmission is in the time (labour) it takes to remove and refit a gearbox to a Fastrac (some mechanics have been known to count the labour in weeks rather than hours) .Considering the cost to your business and the associated downtime you need the reassurance that the persons employed to undertake this task has the relevant skills and insight,along with specialized lifting gear and set up tools required to get it right first time,and the warranty to back it up.With the Russell Fastraxx warranty on reconditioned units, if there is a problem we cover it.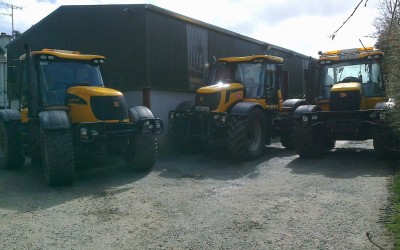 Installing a second hand transmission to your Fastrac that someone else has decided is worn out, damaged (of which there are plenty) or no longer of use to them, is a decision that you should consider very carefully. Repairing or reconditioning the original transmission in your Fastrac could be the best option because you know then that your vehicle has the essential reliability & correct specification transmission designed for your Fastrac.
To help you to make your decision here are some of the reasons why a rebuilt transmission from Russell Fastraxx is the best way to go.
•             Over 15 years Experience of Transmission Repairs and Rebuilds
•             Reconditioned 6 Speed Gearboxes & Range/4WD Transfer Gearboxes
•             Warranty on Full Rebuilds (terms and conditions apply)
•             Clutch/PTO & 2/3 Speed Splitter repairs
•             Front and Rear Differential Rebuilds
•             Full remove and refit service in our fully fitted workshop,with expertly trained fitters
•             All Models of Fastrac covered including  8000 Seies V-Tronic models
•             Covering the 32 counties of Ireland  and overseas markets also.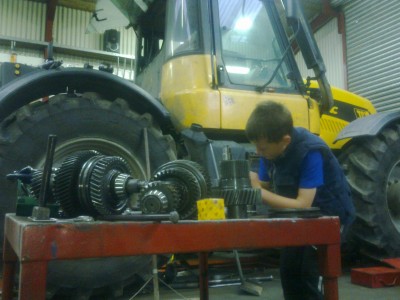 Your transmission is one of the most complex systems in your Fastrac with hundreds of precision parts operating together. Determining the exact problem usually requires a road test, transmission hydraulic pressure test, electronic and electrical testing and a complete operational fault diagnosis . Also the following may be required with some more complex problems: the procedure of removing, dismantling your transmission and performing an inspection of all the parts inside (this would usually apply to repairing the Range/4WD gearbox). We will then be able to tell you not only what is wrong, but also show you why it's worn and damaged.
Complete Transmission Overhaul:
In a complete overhaul or reconditioning of a transmission of a Fastrac that has high working hours, or has suffered major internal damage, the transmission is removed from the vehicle and completely disassembled with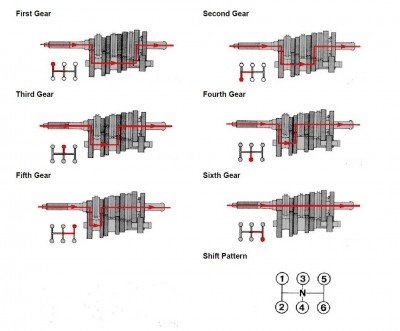 the parts examined. Each part is inspected for wear and damage and then either cleaned and refitted, or replaced with another good part depending on its condition. Parts that have friction surfaces, such as PTO  & powershift clutches, if worn, are replaced as are all seals and gaskets.
For Fastracs with clearly identifiable  troubles, such as a worn synchronizer on perhaps 4th or 5th gear (watch out for this common problem when buying a used example),or a noisy differential, we can carry out a more localized repair, at a lesser cost to the owner, while at the same time advising you what other parts might need inspection or repair, so as to avoid expensive repeat trips to the garage in the near, or  not too near future.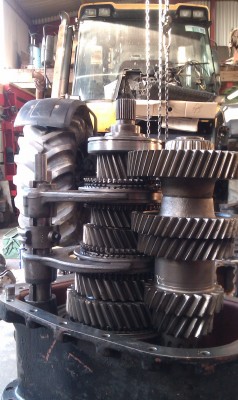 Save yourself  extra expense, downtime and trouble by consulting with the expert people who have successfully rebuilt dozens of the transmissions.
A reconditioned transmission with responsible driving and good servicing should not need any expensive repairs in the foreseeable future. We have many Fastracs with 15,000+ working hours and more still earning their keep for many businesses around the country from Donegal to Cork, Mayo to Dublin, which are regularly serviced by our workshop.
We also extend our services to the 8000 series Fastracs such as the 8250 V-Tronic models that use the AGCO/Fendt sourced ML260 Vario Transmission.  This repair can dramatically cut the cost of owning and maintaining these excellent high horsepower,high speed tractors.
We cover the 32 counties of Ireland and, to the UK and European markets, and trade users, if you choose to remove a worn Fastrac transmission yourself we also offer rebuild and repair service. This would typically require a full analysis of the problem, via phone and email photos etc,by our trained fitters to allow for correct guidance on the best solution to your Fastrac gearbox problem.
Choose the Fastrac Experts
Russell Fastraxx
20,473 total views, 1 views today