Bosch/Rexroth Valves-Russell Fastraxx Present……….
… repairs to the infamous Bosch Rexroth SB23 hydraulic auxiliary remote spool valves as fitted to Case CVT, JCB Fastrac, New Holland TVT & TM, Steyr CVX and other Claas and Massey Ferguson models.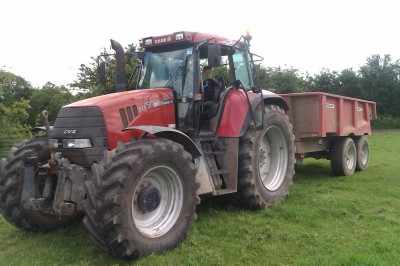 Designed by Bosch/Rexroth, in the trade and with users it was to become what only could be described as an unmitigated disaster, with constant and repeated failures to operate auxiliary external hydraulic services to carry out simple tasks such as tipping a trailer. This was to prove both frustrating and expensive for owners due to the expensive replacement costs quoted by dealers on all brands of tractor using this unreliable and complex valve.
So Russell Fastraxx set out to develop a more affordable solution to the problem.

After many months of research we managed to develop a more affordable solution, and also to track down the man responsible for designing this disaster dressed up as a  hydraulic valve. We have his photo,name, address,email and phone number if you wish to contact him to tell him how much of a failure he, and his valve are.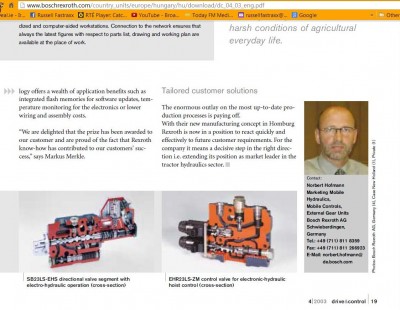 But lets not look to the past with anger and rage, but to the future with hope and optimism! We spent a few months fine tuning this persistent problem until we found more than one solution.
Up to this point ,after many sleepless nights pondering this dilema when i felt i could take no more….. when the world had said, "Give up", a friend with a beard and an AC/DC t-shirt reminded me-" Stubbornly persist, and you will find that the limits of your stubbornness go well beyond the stubbornness of your limits".   And he was right.                                         
Here are some of the results
Below shows the conversion on a Case CVX 170 of 2 valves to manual cable operation,with the fitment of 2 custom designed levers beside the right armrest, while still keeping 2 valves operating electrically on our custom fit joystick located on the armrest control centre.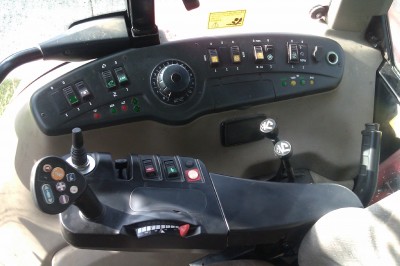 In the photo below we can see our alternative location for the PTO 540/1000/eco controls on to the inner wing at the rear of the tractor but still easily accessible from the drivers seat, and all clearly labelled to ensure correct and safe operation of your PTO features.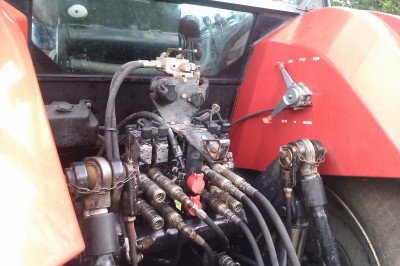 Here we see our Case MXM 190 (similar to New Holland TM190) electric joystick conversion, using joysticks we originally developed for the JCB Fastrac and then adapted to suit this popular application.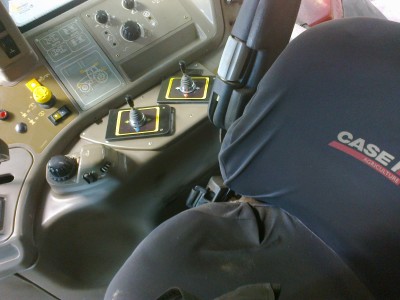 This custom repair can also be applied to New Holland TS,TM TVT & T series models such as this T7040 , owned by Hamilton Contracts, Cookstown, Co.Tyrone (below)………
…..while still using the original control levers in the cab to operate the valves
New Holland T7040 Auxiliary Hydraulic Valves

 Another happy owner, and Russell Fastraxx customer  doing a celebration display, after another successful repair by Russell Fastraxx. Don't try this maneuver at home folks please!!
20,254 total views, 9 views today